Rob Langley, the photography student awarded a grant by the Bolton Camera Club, has learned this week that he has achieved a First Class (Honours) degree at Bolton University. This follows his participation in the final year Degree Show in the Senate House, off University Way. An example of his exhibited work is shown on the left.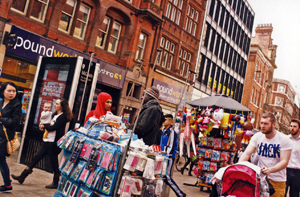 Rob's main focus has been to document people and places, particularly people who have been marginalised or under represented in society. For his exhibition project Rob concentrated on the diversity of the population passing through Manchester City Centre. The crowds of people passing by provide a fleeting glimpse of the rich diversity that is Manchester's heritage.
In addition to his current project, Rob has also given attention to other topics, such as buildings and architecture and has enjoyed participating in a wide variety of assignments as part of his course. His influences include Gary Winogrand, Robert Frank, Vivian Maier, Gus Powell and Peter Funch.
Members of the Bolton Camera Club will be able to see more of Rob's work in the future since he is currently working on a street photography project in Bolton, supported in part by the Club.