Several members of this club and their partners enjoyed a fabulous weekend in Oxford over the weekend of 15 – 17 August 2014 on our annual weekend away.
We set off from Bolton on the Friday morning and drove to Stratford upon Avon, where we enjoyed late morning refreshments by the river. Many of us chose to explore Stratford, while a few departed to visit Blenheim Palace or villages on the way to Oxford.
We were all booked in at the Premier Inn in Cowley, just a couple of miles from the centre of Oxford. We were joined at our evening meal by Philip Joyce, Chairman of the Oxford Photographic Society, and Karen Galloway, Hospitality Officer of OPS, who had prepared much information about Oxford and the kind offer to lead us on a walking tour of Oxford on Saturday.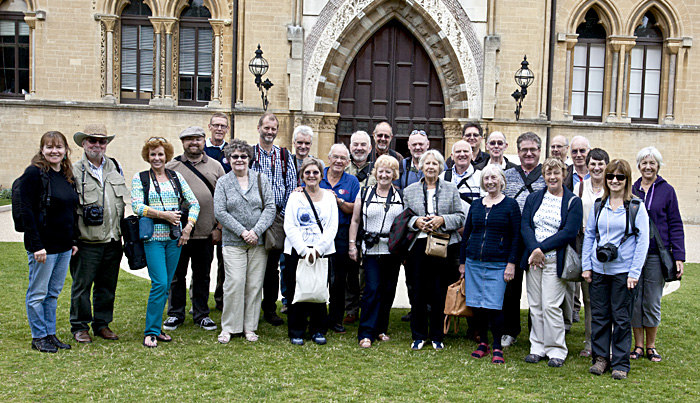 We thoroughly enjoyed the walk with Philip and Karen, and were joined by some other members of the OPS as we went round places that are off the beaten track. We saw some artistic graffiti on house walls on the way in to the City Centre, and several of the 37 Halls that make up the University. Philip pointed out some buildings and streets that have been used in major television series, including Morse and Lewis, and some of the Harry Potter movies. We walked along the Oxford Canal towpath through Jericho, and saw the lock that links the River Thames (or River Isis as it is called locally) with the canal. We visited the University Museum of Natural History and the extension containing the Pitt Rivers exhibition, and admired the interesting architecture of the Biochemistry buildings.
Even the non photographers amongst us enjoyed the informative walk, and were not tempted to go shopping or pursue other non-photographic activities. The local knowledge and information given by Philip and Karen brought the walk alive and added extra interest.
On Sunday most of us left Oxford to visit places of interest on our route home. Some visited sleepy villages in the Cotswolds, some went to Shugborough Hall and some stayed in Oxford.
We give sincere thanks to both Philip and Karen, and to the other members of OPS we met. We thoroughly enjoyed our time in and around Oxford and took many photographs, some of which can be seen here.
We also thank Gordon and Pat Hartley for organising this enjoyable weekend, and we are already looking forward to next years weekend away, to a destination as yet to be decided.